Don't Miss This …
Identify your client's AAC needs early so you can get them on a waitlist for an expanded level AAC clinic in a responsible, timely, and safe fashion. Expanded level clinics provide assessment and prescription of AAC systems, as well as access to funding from the Assistive Devices Program of Ontario (ADP).
Consider where to refer your client based on their location and the closest AAC clinic's mandates – you can view a list of Ontario AAC Clinics designated by the ADP on the Centralized Equipment Pool's website: https://web.cepp.org/about/
No Tech #
Partner Supported Conversation #
Augmenting the environment and communication partner's awareness and response strategies is often the first step in exploring Augmentative and Alternative Communication (AAC).
Augmenting the environment includes turning on lights so you can see your communication partner better, turning off sources of noise, facing your communication partner head on.
Augmenting your partner's expectation and response strategy is about educating household members of how to help the patient with their communication strategies.
For more information, see the  Facilitating Functional Communication article.
Low Tech #
Low-Tech AAC consists of communication tools that do not rely on electronics or a power source to operate effectively. Depending on a client's communication goals for a particular environment, they may benefit from a communication and/or alphabet board, or a larger communication book. 
ID Cards #
Wallet sized cards can be a good option for patients to quickly communicate common phrases, such as:
"I have a medical condition that affects my speech"
"I use a computer to speak due to a medical condition, please give me a second to respond"
Communication Boards, Alphabet Boards, and Communication Books #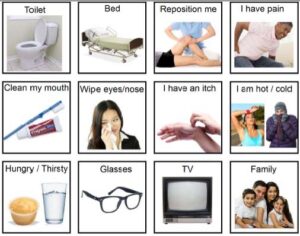 There are different ways of accessing communication aids: pointing with a finger or pointer, spelling out letters or numbers, or Partner-Assisted Scanning – consider what is most efficient and functional for the client. Customizing low tech aids (e.g. with personalized messages) will increase the client's motivation and efficiency of use. Consider smaller grid size, picture/symbol support, and aphasia-friendly format for clients with language or cognitive impairment.
Be sure to consider the client's cultural and linguistic background and preferences – low tech communication aids should accommodate to the client's primary or preferred language to enable functional communication with clients' family and community. See the following link to a webpage from Widgit with sample critical care communication charts that are available for download in various languages: https://www.widgit.com/products/health/covid19-communication-chart.htm
High Tech  #
Many clients with ALS are good candidates for high-tech AAC, though it is considered wise to always pair it with a low-tech option should technology fail/run out of battery.  Clients who are interested in preparing for the future and have good intelligibility may be considered candidates for voice or message banking (see below). 
Sources and Further Reading #
Assistive Devices Program (Ministry of Health of Ontario), Communication Aids,https://www.ontario.ca/page/communication-aids
Individual Authorizer Home Study Guide, Centralized Equipment Pool (CEP), https://web.cepp.org/continuing-education/
Yorkston, K., Miller, R., Strand, E., & Britton, D. (2013). Management of Speech and Swallowing in Degenerative Diseases. 3rd edn (Austin, TX: PRO-ED).